Journal of  Governance and Public Policy is the flagship journal, peer-reviewed, open-access journal that targets research in Governance and Public Policy issues. The journal provide academic scholars and professionals to analyze, stimulate and disseminate a wide range of governance and public policy based dynamics,  governing processes as well as political research area with the latest theoretical, concept, methodological advancements and practices in Governance and Public Policy.
The journal's offers genuine valuable source for scientists and public policy makers in all areas looking for distinctive ways of dealing with related issues. Distinguished contributors from all over the world present in-depth research and studies which have tangible practical values and whose methodologies can be applied to solve or mitigate parallel situations.
JGPP is registered with ISSN number 2460-0164 (print), 2549-7669 (Online). The journal is published three times yearly: February, June, and October by the Master of Government Affairs and Administration, Postgraduate Program, Universitas Muhammadiyah Yogyakarta, Indonesia in collaboration with Asia Pacific Society for Public Affairs /APSPA ( http://apspa.org, ), Asosiasi Dosen Ilmu Pemerintahan Indonesia / ADIPSI ( http://www.adipsi.org/, ), Asosiasi Ilmu Pemerintahan Perguruan Tinggi Muhammadiyah/AIPPTM ( http://aipptm.com/) and Jusuf Kalla School of Government /JKSG ( http://jksg.umy.ac.id/).
 JGPP is indexed by:
 JGPP has been ranked 3 at SINTA (Science and Technology Index) by the  Director-General of Strengthening Research and Development, Ministry of Research Technology and Higher Education of the Republic of Indonesia, Decree Number 10/E/KPT/2019. We apply a high-quality standard review process as the principal quality assurance instrument of our journal.  All the articles published by JGPP are assigned with DOI numbers.
JGPP invite all interested contributors to submit their papers for consideration or to become a subscriber and publish their article at JGPP.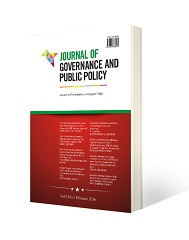 Announcements
CALL for PAPERS

Posted: 2020-01-05
More...

Call for Papers

Article submissions in JGPP are done by OJS or online submissions (not by email, except trouble in register).

Every manuscript submitted is going through a plagiarism scan using Turnitin

 Call for Papers for Vol 7 No 1 February 2019

Posted: 2019-10-01
More...
Vol 6, No 3 (2019): October 2019
Table of Contents
Articles
| | | |
| --- | --- | --- |
| | Anthony Kayode Oroleye | 216-235 |
| | | |
| --- | --- | --- |
| | Elza Zikra Muallimin, Ulung Pribadi, Dwian Hartomi Akta Padma Eldo | 236-251 |
| | | |
| --- | --- | --- |
| | Sadar Bahtiar, Titin Purwaningsih | 252-269 |
| | | |
| --- | --- | --- |
| | Mia Sarmiasih, Prawira Yudha Pratama | 270-292 |
| | | |
| --- | --- | --- |
| | Dian Eka Rahmawati, Dwi Woro Astuti | 293-306 |
| | | |
| --- | --- | --- |
| | Murniyati Yanur, Muchammad Zaenuri | 307-317 |
| | | |
| --- | --- | --- |
| | Putri Ramadhani, Suswanta Suswanta | 318-340 |