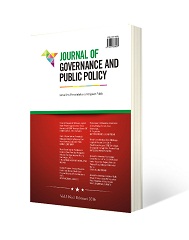 Journal of Governance And Public Policy ISSN:2355-8695 Online: 2549-7669

is the journal published three times for a year: February, June, and October by the Master of Government Affairs and Administration,

Post Graduate Program, Universitas Muhammadiyah Yogyakarta, Indonesia collaborate with Asia Pacific Society For Public Affairs (APSPA)
http://apspa.org
, Asosiasi Dosen Ilmu Pemerintahan Indonesia (ADIPSI)
http://www.adipsi.org/
, Asosiasi Ilmu Pemerintahan Perguruan Tinggi Muhammadiyah (AIPPTM)http://aipptm.com/, Jusuf Kalla School Of Government (JKSG) http://jksg.umy.ac.id/.
The journal aims to publish research articles within the field of Public Policy and Governance, and to analys a range of contemporary political and governing processes.
The journal's international content offers a genuinely valuable source for scientists and public policy makers in all areas looking for fresh ways of dealing with familiar problems. Distinguished contributors from all over the world present in-depth research and case histories which have tangible practical value and whose methodologies can be applied to solve or mitigate parallel situations.Published article is assigned with a DOI number.
Announcements
Articles Publication

This year The Journal of Governance and Public Policy, was publicated amount 12 articles
Posted: 2017-08-09

Call for Papers

Article submissions in JGPP is done by OJS or online submissions (not by email, except trouble in register).

Every manuscript submitted is going through a plagiarism scan using turnitin

 

Posted: 2017-05-02
Vol 5, No 3 (2018): October 2018
Table of Contents
Articles
| | | |
| --- | --- | --- |
| | Queenie Pearl Villalon Tomaro | |
| | | |
| --- | --- | --- |
| | Charis Vlados, Nikos Deniozos, Demosthenes Chatzinikolaou, Michail Demertzis | |
| | | |
| --- | --- | --- |
| | Hamjah Bonso, Suranto Suranto | |
| | | |
| --- | --- | --- |
| | Husni Amriyanto, David Efendi | |