FOCUS & SCOPE | EDITORIAL TEAM | EDITORIAL POLICIES | AUTHOR GUIDELINE & SUBMISSION | MANUSCRIPT TEMPLATE | PUBLISHING PROCESS |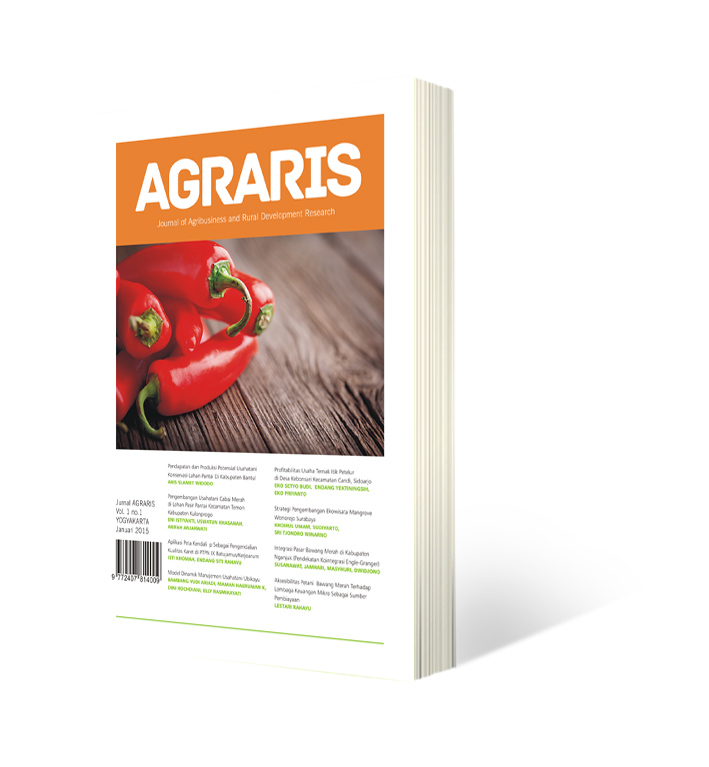 AGRARIS is scientific periodical publication on agribusiness and rural development issue which is acting as media for information dissemination of research result for lecturer, researcher and practitioner. AGRARIS is published twice a year (January and July) by Department of Agribusiness, Faculty of Agriculture, Universitas Muhammadiyah Yogyakarta, in collaboration with Agribusiness Association of Indonesian (AAI).
Announcements
No announcements have been published.
Vol 2, No 2: July - December 2016
Table of Contents
Articles
| | | |
| --- | --- | --- |
| | Nur Elisa Faizaty, Amzul Rifin, Netti Tinaprilla | 97-106 |
| | | |
| --- | --- | --- |
| | Elvin Desi Martauli, Lukman M. Baga, Anna Fariyanti | 118-127 |
| | | |
| --- | --- | --- |
| | Waryat Waryat, Muflihani Yanis, Kartika Mayasari | 128-133 |
| | | |
| --- | --- | --- |
| | Widodo Widodo, Diah Rina Kamardiani, Lestari Rahayu | 134-142 |
| | | |
| --- | --- | --- |
| | Aris Slamet Widodo, Retno Wulandari | 161-167 |