Online Submissions
Already have a Username/Password for International Journal of Islamic Economics and Finance (IJIEF)?
Go to Login
Need a Username/Password?
Go to Registration
Registration and login are required to submit items online and to check the status of current submissions.
Author Guidelines
Author Guidelines
International Journal of Islamic Economics And Finance (IJIEF) 
STANDAR REPORTING
Authors should present an accurate account of the work performed as well as an objective discussion of its significance. Underlying data should be represented accurately in the paper. A paper should contain sufficient detail and references to permit others to replicate the work. Fraudulent or knowingly inaccurate statements constitute unethical behavior are unacceptable.
Papers to be submitted should be written in English between 6000 and 10000 words. The articles submitted to the International Journal of Islamic Economics and Finance (IJIEF) should be original contributions and should not be under consideration for any other publication at the same time. Manuscripts must be submitted electronically in MS Word according to the prescribed format that you can download on this link. The author must have to do registration and do submission to this link. Articles must be type written single spaced and with ample margins and all pages (including those containing any diagrams and tables) must be numbered consecutively. Arabic numerals are to be used throughout.
EXCLUSIVITY OF WORK
The authors should ensure that they have written entirely original works, and if the authors have used the work and/or words of others this should be appropriately cited or quoted. Plagiarism takes many forms, from 'passing off' another's paper as the author's own paper to copying or paraphrasing substantial parts of another's paper (without attribution), to claiming results from research conducted by others. Plagiarism in all its forms constitutes unethical publishing behavior and is unacceptable. An author should not in general publish manuscripts describing essentially the same research in more than one journal or primary publication. Submitting the same manuscript to more than one journal concurrently constitutes unethical publishing behavior and is unacceptable. In general, an author should not submit for consideration in another journal a previously published paper. We consider for publication from conference paper if it is only an extended version of conference paper with at least 30% of new material.
AUTHORSHIP OF THE PAPER  
Authorship should be limited to those who have made a significant contribution to the conception, design, execution, or interpretation of the reported work. All those who have made significant contributions should be listed as co-authors. Whilst those who have participated in certain substantive aspects of the research project, they should be acknowledged or listed as contributors. The corresponding author should ensure that all appropriate and inappropriate co-authors are included on the paper, and that all co-authors have seen and approved the final version of the paper and have agreed to its submission for publication. 
PLAGIARISM
The articles must be original contributions and not be under consideration for any other publications at the same time. Make sure that the similarity index shall not exceed 22 percent excluding references.
TOPIC OF ARTICLE 
The topic should cover about Islamic Economics and Finance, but not limited to the followings:
1. Islamic Banking and Finance (including Islamic Capital Market, non-Bank Financial Institution, and Sukuk)
2. Islamic Macroeconomics and Monetary Economics;
3. Islamic Social Finance (including zakat, infaq, shadaqah, and waqf);
4. Islamic Microfinance
5. Islamic Fin-tech
6. Islamic Economic Thoughts
7. Islamic Political Economics
8. Integrated Islamic Commercial and Social Finance
9. Islamic Macro-Prudential
10. Islamic Public Finance
MANUSCRIPT PREPARATION
a. Abstract
An abstract not exceeding 200 words, in one paragraph, and with no references, should appear on the top of the first page, after the title of the paper and the names of the authors in a section titled "Abstract" (without section number). The word "Abstract" must be Times New Roman, Bold, and 10 pt and the abstract itself also be Calibri Light, italic, and 10 pt. The abstract must be maximum of 5 keywords and must include JEL classification.
 b. Language
Authors are strongly encouraged to follow the principles of sound technical writing. Manuscripts that do not meet acceptable English standards or lack clarity may be rejected.Authors whose native language is not English may wish to collaborate with a colleague whose English skills are more advanced.
c. Content
The content of manuscript must be contained Introduction, Literature Review, Methodology, Results & Analysis, and Conclusion & Recommendation.
d. Page Setup and Fonts
All margins should be 2 cm. Sizes and styles shown in this below.
| | | | |
| --- | --- | --- | --- |
| Chapters | Font Size | Font Style | Font Type |
| Article title |  16 pt |   | Calibri Light |
| Author names |  12 pt |   | Calibri Light |
| Author affiliations and email |  10 pt | Italic | Calibri Light |
| Abstract title |  10 pt | Bold | Calibri Light |
| Abstract |  10 pt |   | Calibri Light |
| Keywords and JEL Classification title |  10 pt | Bold | Calibri Light |
| Keywords and JEL Contain |  10 pt |   | Calibri Light |
| Heading 1 |  14 pt | Bold | Bell MT |
| Heading 2 (subsection headings) |  11 pt | Bold | Calibri Light |
| Heading 3 (sub-subsection headings) |  11 pt |   | Calibri Light |
| Body text |  11 pt |   | Calibri Light |
| Table caption |  11 pt |   | Calibri Light |
| Table content |  10 pt |   | Calibri Light |
| Figure caption |  11 pt |   | Calibri Light |
 e. Section Formatting (Heading and Sub Heading)
Type each section heading on a separate line using the appropriate style from the style list. Sections should not be numbered sequentially. Paragraphs that immediately follow a section heading are leading paragraphs and should not be indented, according to standard publishing style. The same goes for leading paragraphs of subsections and sub-subsections. In this MS Word template, use the Body Text style for leading paragraphs and the Body Text Indented style for all subsequent paragraphs.
 f. Figures and Tables
(1) Figures
Figures are numbered in the order. The numbering of figure is placed below and center of the figure. All figure parts must be labeled 1, 2 etc. A figure caption list should be provided after the references.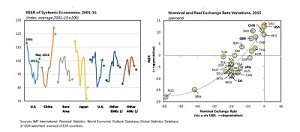 Figure 1. Selected Economies: Real and Nominal Exchange Rates, 2001-16
Source: IMF (2016)
(2) Tables
Tables are numbered in the order. The numbering of table is placed below and center of the table. They should appear in the document in numerical order.
Table 1. Economic Indicators of Grameen Bank
| | | | | |
| --- | --- | --- | --- | --- |
| Year | 2000 | 2005 | 2010 | 2015 |
| Total Deposit (mill. US$) | 113.24 | 482.92 | 1492.02 | 2405.81 |
| Total Investments (mill. US$) | 96.83 | 151.80 | 678.46 |   |
| Total Income (mill. US$) | 55.70 | 112.40 | 252.05 |   |
| Members' Deposit as % of Total Deposit | 79% | 64% | 54% | 63% |
| Numbers of Employees | 11,028 | 16,142 | 22,255 | 21,651 |
| Numbers of Branches | 1,160 | 1,735 | 2,565 | 2,568 |
Source: http://www.grameen.com, Grameen Bank Yearly Report, 2015
a. Equations
Equations may appear in line with the text, if they are simple, short, and not of major importance; e.g., a = b/c. Important equations appear on their own line. Principal equations are numbered, with the equation number placed within parentheses and right justified. Authors are strongly encouraged to use MS Word Equation Editor or Math Type to create both in-text and display equations. Equations are considered to be part of a sentence and should be punctuated accordingly
b. References
APA style requires authors to use the past tense or present perfect tense when using signal phrases to describe earlier research, for example, Jones (1998) found or Jones (1998) has found. When using APA format, follow the author-date method of in text citation. This means that the author's last name and the year of publication for the source should appear in the text, for example, (Jones, 1998), and a complete reference should appear in the reference list at the end of the paper.
If you are referring to an idea from another work but NOT directly quoting the material, or making reference to an entire book, article or other work, you only have to make reference to the author and year of publication and not the page number in your in-text reference. All sources that are cited in the text must appear in the reference list at the end of the paper.
1)      Short quotations. If you are directly quoting from a work, you will need to include the author, year of publication, and the page number for the reference (preceded by "p."). Introduce the quotation with a signal phrase that includes the author's last name followed by the date of publication in parentheses. According to Jones (1998, p.199), "Students often had difficulty using APA style, especially when it was their first time".
2)      Long quotations. Place direct quotations that are 40 words, or longer, in a free-standing block of typewritten lines, and omit quotation marks. Start the quotation on a new line, indented 1/2 inch from the left margin, i.e., in the same place you would begin a new paragraph. Type the entire quotation on the new margin, and indent the first line of any subsequent paragraph within the quotation 1/2 inch from the new margin. Maintain double-spacing throughout. The parenthetical citation should come after the closing punctuation mark.
3)      Summary or paraphrase. If you are paraphrasing an idea from another work, you only have to make reference to the author and year of publication in your in-text reference, but APA guidelines encourage you to also provide the page number (although it is not required. According to Jones (1998), APA style is a difficult citation format for first-time learners. APA style is a difficult citation format for first-time learners (Jones, 1998, p. 199).
4)      References. The References section lists books, articles, and reports that are cited in the paper. Reference styles used American Psycological Association (APA):
Examples:
(a) Books
Chapra, M. U. (2010). Islamic perspective on poverty alleviation.Jeddah: Islamic Research and Training Institute.
Islamic Research and Training Institute & Thomson Reuters.(2014). Islamic social finance report 2014. Jeddah: Author.
Romer, D. (2006).Advanced macroeconomics (3rd ed.). New York: MC Graw-Hill.
(b) Journal Article
Iqbal, Z., &Mirakhor, A. (2012). Financial inclusion: Islamic finance perspective. Journal of Islamic Business and Management, 2(1), 35-64.
(c) Chapters in edited books
Evans, T. (1997). Democratization and human rights, In A. McGrew (Ed.), The transformation of democracy? (pp. 122-148). Cambridge: Polity Press.
(d) Conference Paper/Proceeding
Cizakca, M. (2004, March).Cash waqf as alternative to NBFIs bank. Paper presented at The International Seminar on Nonbank Financial Institutions: Islamic Alternatives, Kuala Lumpur.
(e) Research Report
Firdaus, M., Beik, I. S., Irawan, T. &Juanda, B. (2012).Economic estimation and determinations of zakat potential in Indonesia (Working Paper Series WP 1433-07). Jeddah: IRTI.
Wimanda, R. E. (2010). Inflation and monetary policy rules: evidence from Indonesia (Doctoral Thesis). Loughborough University.
(f) Newspaper
Cowan, R. (2001, October 23). Adams asks IRA to disarm. The Guardian, p. 1.
(g) Website material
Asian Development Bank Institute. (2014). Financial inclusion in Asia: Country survey. Tokyo: Author. Retrieved December 4, 2015, from http://www.adb.org/sites/default/files/publication /159308/adbi-financial-inclusion-asia.pdf
MORE INFORMATION
Secretariat
Phone: +62 274 387656 Ext. 380
Whatsapp: +6289-7815-6187
Office
Postgraduate Building Ground Floor, UniversitasMuhammadiyah Yogyakarta Brawijaya Street,
Kasihan, Bantul, Yogyakarta 55183.
Download Template 
Submission Preparation Checklist
As part of the submission process, authors are required to check off their submission's compliance with all of the following items, and submissions may be returned to authors that do not adhere to these guidelines.
The submission has not been previously published, nor is it before another journal for consideration (or an explanation has been provided in Comments to the Editor).
The submission file is in OpenOffice, Microsoft Word, RTF, or WordPerfect document file format.
Where available, URLs for the references have been provided.
The text is single-spaced; uses a 12-point font; employs italics, rather than underlining (except with URL addresses); and all illustrations, figures, and tables are placed within the text at the appropriate points, rather than at the end.
The text adheres to the stylistic and bibliographic requirements outlined in the Author Guidelines, which is found in About the Journal.
If submitting to a peer-reviewed section of the journal, the instructions in Ensuring a Blind Review have been followed.
Copyright Notice
This work is licensed under a 
Creative Commons Attribution-ShareAlike 4.0 International License
.
Privacy Statement
The names and email addresses entered in this journal site will be used exclusively for the stated purposes of this journal and will not be made available for any other purpose or to any other party.
Author Fees
This journal charges the following author fees.
Article Submission: 0.00 (IDR)
Authors are required to pay an Article Submission Fee as part of the submission process to contribute to review costs.
If you do not have funds to pay such fees, you will have an opportunity to waive each fee. We do not want fees to prevent the publication of worthy work.
International Journal of Islamic Economics and Finance (IJIEF)
Faculty of Economics and Business, Universitas Muhammadiyah Yogyakarta 
Office:
Pascasarjana Building, Ground Floor
Jl. Brawijaya (Ringroad Selatan), Kasihan, Bantul
D.I. Yogyakarta 55183, INDONESIA
+62 274 387656 Ext. 380