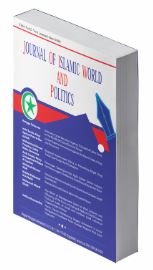 Journal of Islamic World and Politics (JIWP) aims to facilitate the deployment of ideas and research in the field of international relations and Islamic world. ISSN: 2614-0535 (Print) and 2655-1330 (Online). The scope of JIWP consist of:
Contemporary Islam;
Islamic Thought and Theories;
Democracy, cultural studies and islamic studies;
International political economy;
Diplomacy and foreign policy;
Global governance;
Globalization and global civil society;
Regional and international security; or
The other topic which is relevant with international studies and Islamic World;
---
Announcements
JIWP TERAKREDITASI

Posted: 2019-12-18
More...

Fee of Charge

The article sent to Journal of Islamic World And Politics (JIWP) is Processing Fees for the publication of articles accepted IDR 350.000,- and using  full in English manuscript.

Posted: 2018-09-29
More...
Vol 3, No 2 (2019): December
Table of Contents
Articles
| | | |
| --- | --- | --- |
| | Noviyanti Soleman, Rifki Elindawati | IN PRESS |
| | | |
| --- | --- | --- |
| | Diana Mutiara Bahari, Favian Dwi Tantra, Risky Fauzi Widodo | IN PRESS |
| | | |
| --- | --- | --- |
| | Devi Intan Chadijah, Mahendra Wijaya, Raden Bagus Soemanto | IN PRESS |
| | | |
| --- | --- | --- |
| | Witri Elvianti, Nanda Amedina Putri | IN PRESS |
| | | |
| --- | --- | --- |
| | Rizqi Apriani Putri | IN PRESS |
Research Article
| | | |
| --- | --- | --- |
| | Muhammad Fauzi Abdul Rachman | IN PRESS |
| | | |
| --- | --- | --- |
| | Faudyan Eka Satria | IN PRESS |