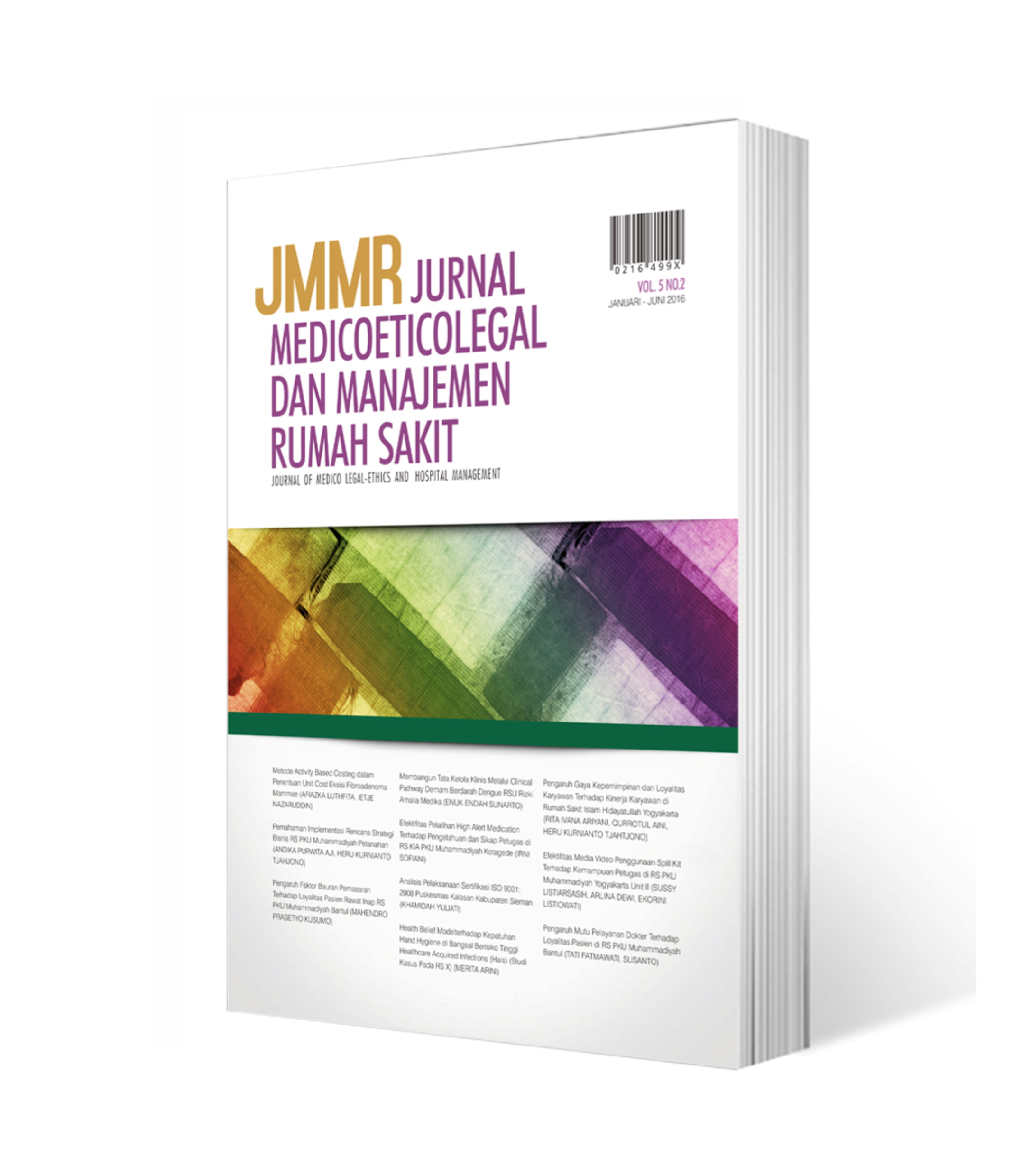 JMMR (Jurnal Medicoeticolegal dan Manajemen Rumah Sakit) is peer reviewed journal published by Universitas Muhammadiyah Yogyakarta in collaboration with The Muhammadiyah Lecturer of Hospital Management Graduate Program Association (ADMMIRASI). ISSN: 2541-6715 (online) and 2088-2831 (print). JMMR focuses on the research and research review related to hospital management that is relevant for the development of the theory and practice of hospital management in Indonesia and southeast asia. JMMR is indexed by Directory Open Access Journal (DOAJ), Google Scholar, and Crossref (DOI), and neliti. JMMR covered various of research approach, namely: quantitative, qualitative and mixed method. JMMR focuses related on various themes, topics and aspects of accounting and investment, including (but not limited) to the following topics:
Hospital Management

Hospital Accounting


Health Services Management

Health Insurance

Health Policy

Puskesmas Management

Medicine


Nursing

Pharmacy
Announcements
3 rd ICMHS 2018

Let's join in International Conference Medical and Health Sciences 2018 (ICMHS 2018) is an International conference organized by the Faculty of Medicine and Health Sciences Universitas Muhammadiyah Yogyakarta (UMY). JMMR is one of Affiliation Journals in ICMHS.

visit us here http://icmhs.fkik.umy.ac.id/

Posted: 2018-07-21

CALL PAPERS

Article submissions in JMMR (Jurnal Madicoeticolegal dan Manajemen Rumah Sakit) are done through OJS or online submissions (not by email). Click here to download Online Submissions Guidelines

Every manuscript submitted is going through a plagiarism scan using Turnitin

 

Posted: 2017-11-23
More...
Vol 7, No 1 (2018): January-April
Table of Contents
Articles
| | | |
| --- | --- | --- |
| | Ika Rahayu Susanti, Andriyani Hamzah, Siti Asiyah Anggraeni, Kurnia Widyaningrum | 12-20 |
| | | |
| --- | --- | --- |
| | Ellia Nufara, Ali Ghufron Mukti, Tri Baskoro T. Satoto Mail | 21-31 |
| | | |
| --- | --- | --- |
| | Aisyah Shofiatun Nisa | 32-41 |
| | | |
| --- | --- | --- |
| | Ika Shanti Rosalina, Muhammad Mansur, M. Kuntadi Syamsul Hidayat, Kurnia Widyaningrum | 42-59 |
| | | |
| --- | --- | --- |
| | Fika Nur Indriasari, Linda Widyarani, Prima Daniyati K | 60-70 |
| | | |
| --- | --- | --- |
| | Abdi Agus Youandi, Kurnia Widyaningrum, Navis Yuliansyah | 87-96 |
| | | |
| --- | --- | --- |
| | Harjanti Harjanti, Navis Yuliansyah, Kurnia Widyaningrum | 97-103 |