Focus and Scope | Editorial Team | Editorial Policies | Publication Ethics | Author Guidelines | Online Submission | Indexing  l Template Jmmr l  Journal Order I Contac Us I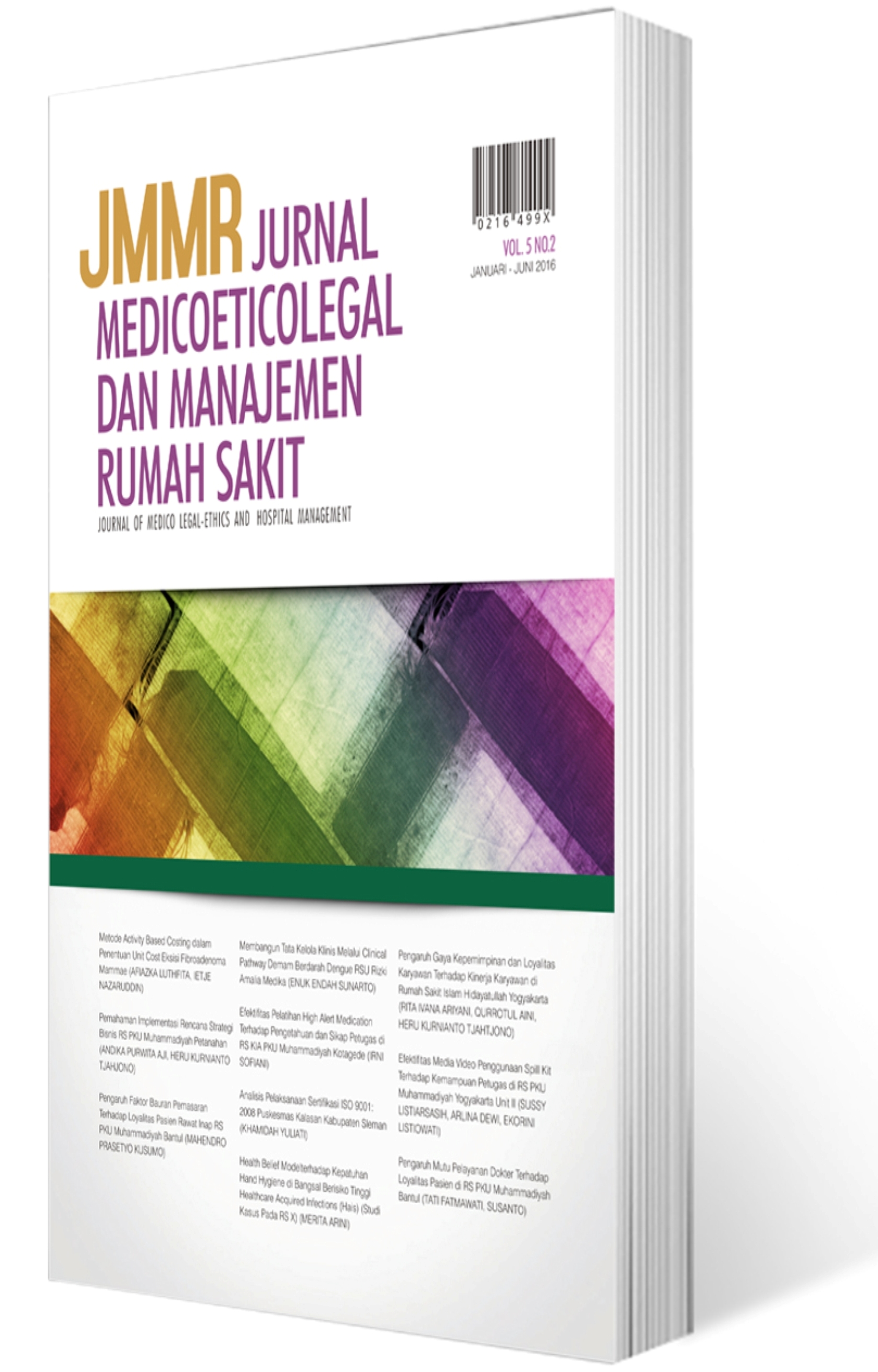 JMMR (Jurnal Medicoeticolegal dan Manajemen Rumah Sakit) is a periodic scientific journal published by Department of Hospital Management Graduate Program of Universitas Muhammadiyah Yogyakarta. JMMR publishes the issue every January-April, Mei-Agustus, and September-December, thrice a year. The missions of this journal are to disseminate and to discuss various scientific texts on policy management in the scope of health service. For that reason, this journal is intended as a communication medium for those who have interest in management and health service policies such as managers and policy makers in health service organizations like government (public) hospitals and non-government (private) hospitals, health agencies, health department, public health service centers, BKKPBN, medicine industry managers, and health insurance as well as researchers, lecturers, and scientists who are interested in the science of management and policies in health sector. JMMR is indexed in
Google Scholar
,
crossref (DOI)
and
DOAJ.
ISSN (Print): 2088-2831; ISSN (online): 2541-6715.
Announcements
CALL PAPER

Article submissions in JMMR (Jurnal Madicoeticolegal dan Manajemen Rumah Sakit) are done through OJS or online submissions (not by email). Click here to download Online Submissions Guidelines

Every manuscript submitted is going through a plagiarism scan using Turnitin

 

Posted: 2017-11-23
More...
Vol 7, No 1 (2018): January-April
Table of Contents
Articles
| | | |
| --- | --- | --- |
| | Ika Rahayu Susanti, Andriyani Hamzah, Siti Asiyah Anggraeni, Kurnia Widyaningrum | 12-29 |
| | | |
| --- | --- | --- |
| | Ellia Nufara, Ali Ghufron Mukti, Tri Baskoro T. Satoto Mail | 30-40 |
| | | |
| --- | --- | --- |
| | Aisyah Shofiatun Nisa | 41-50 |
| | | |
| --- | --- | --- |
| | Ika Shanti Rosalina, Muhammad Mansur, M. Kuntadi Syamsul Hidayat, Kurnia Widyaningrum | 51-60 |
| | | |
| --- | --- | --- |
| | Fika Nur Indriasari, Linda Widyarani, Prima Daniyati K | 61-70 |
| | | |
| --- | --- | --- |
| | Abdi Agus Youandi, Kurnia Widyaningrum, Navis Yuliansyah | 93-102 |
| | | |
| --- | --- | --- |
| | Harjanti Harjanti, Navis Yuliansyah, Kurnia Widyaningrum | 103-115 |