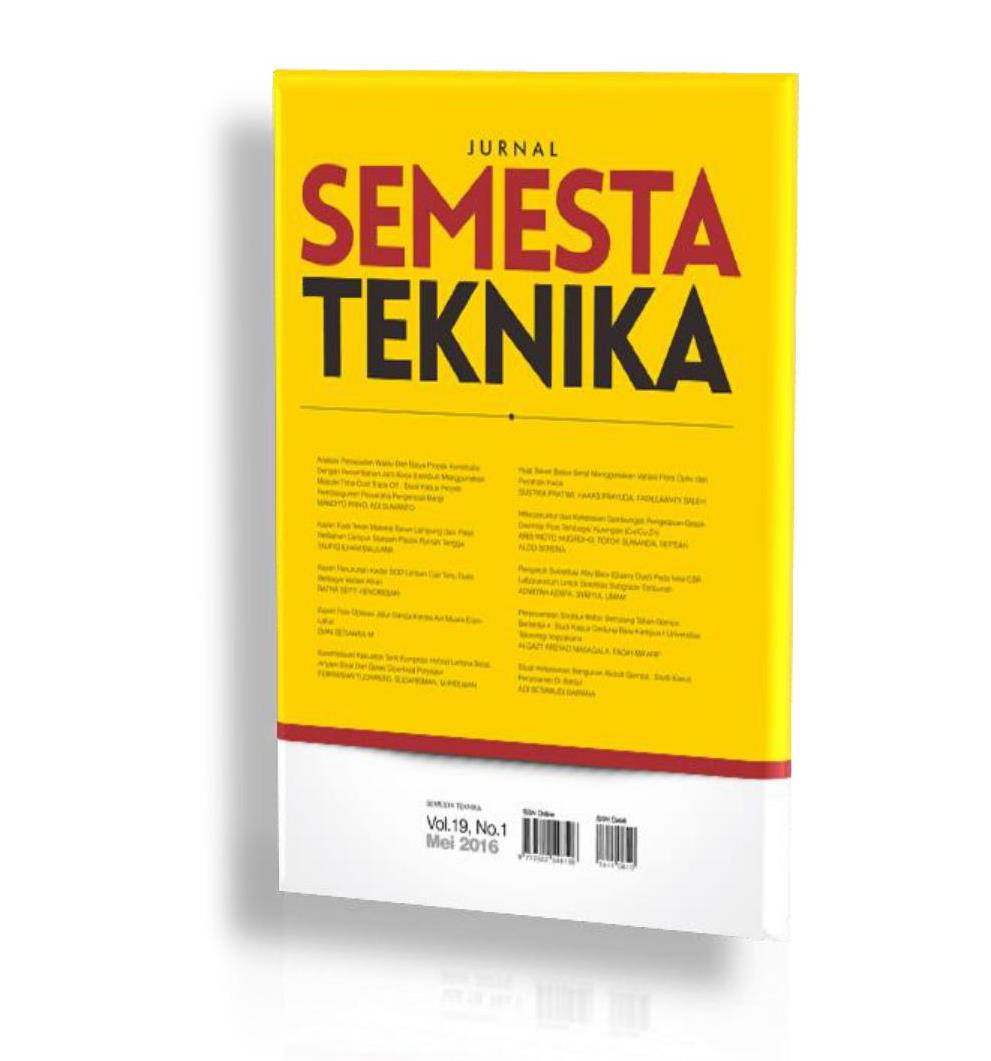 Focus and Scope l Publication Ethics l Editorial Team l Author Guiderline l Online Submission l Article Template
Scientific Journal of SEMESTA TEKNIKA is a reputable refereed journal devoted to the publication and dissemination of basic and applied research in engineering. SEMESTA TEKNIKA is a forum for publishing high quality papers and references in engineering science and technology. The Journal is published by the Faculty of Engineering, Universitas Muhammadiyah Yogyakarta, INDONESIA. Copyright is by the publisher and the authors. The Journal is issued in electronic form and also issued in printed form as annual volume for the contributors only. The journal contains original research papers, review articles, short notes and letters to the editors. The topics of interest include modeling, experimental, analytical and numerical investigations on the mechanical, physical, chemical and mineralogical properties of material, developing the prototype/instrument, technology and construction process. Topic of management in industry and civil construction is also considered.
SEMESTA TEKNIKA receives manuscripts from the contributor written in the Indonesian and English. Manuscripts submitted to the journal for publication must not have been previously published or is under consideration simultaneously by any other publication.
Manuscripts submitted to SEMESTA TEKNIKA will be reviewed by the Editorial Board and at least one referee from the International Reviewer Board (Mitra Bestari) or/and distinguished independent referee from the local and foreign universities. The manuscript will be evaluated based on its appropriateness with topic and scope of SEMESTA TEKNIKA, contribution to the discipline, cogency of the analysis, clarity of presentation and technical adequacy. SEMESTA TEKNIKA is indexed and abstracted in
Announcements
No announcements have been published.
Vol 21, No 2 (2018): NOVEMBER 2018
Table of Contents
Articles
| | | |
| --- | --- | --- |
| | Dian Setiawan M, Anita Rahmawati, Iwan Bagus Setiawan | 106-113 |
| | | |
| --- | --- | --- |
| | Muhammad Isnan, Ainur Rofiq, Ibnu Awal Hasanudin, Thoharudin Thoharudin | 114-120 |
| | | |
| --- | --- | --- |
| | Krisdiyanto Krisdiyanto | 121-129 |
| | | |
| --- | --- | --- |
| | Berli Paripurna Kamiel, Ikhsan Aprima Kausar | 130-140 |
| | | |
| --- | --- | --- |
| | Aris Widyo Nugroho, Iswanto Iswanto | 141-149 |
| | | |
| --- | --- | --- |
| | Haris Setyawan, Asroni Asroni | 150-157 |
| | | |
| --- | --- | --- |
| | Asroni Asroni, Badrahini Masajeng Respati, Slamet Riyadi | 158-165 |
| | | |
| --- | --- | --- |
| | Muhammad Heri Zulfiar | 178-188 |
| | | |
| --- | --- | --- |
| | Asroni Asroni, Nadiyah Maharty Ali, Slamet Riyadi | 189-197 |
| | | |
| --- | --- | --- |
| | Sukamta Sukamta, Thoharudin Thoharudin, Dedy Melianto Nugroho | 206-215 |
| | | |
| --- | --- | --- |
| | Apriliya Kurnianti, Haris Setyawan, Fathania Firwan Firdaus, Safira Nira Yuma | 216-229 |
| | | |
| --- | --- | --- |
| | Laila Marifatul Azizah, Sitti Fadillah Umayah, Febriyana Fajar | 230-236 |
| | | |
| --- | --- | --- |
| | Fauzan Hamdi, Muh Amir Zainuddin, Farida Gaffar | 237-243 |