Journal of Robotics and Control (JRC) ISSN: 2715-5056, e-ISSN: 2715-5072 is an international open-access journal published bi-monthly, six times a year (January, March, May, July, September and November) by Universitas Muhammadiyah Yogyakarta. The journal invites students, researchers, and engineers to contribute to the development of theoretical and practice-oriented theories of Robotics and Control.
Its scope includes (but not limited) to the following: Manipulator Robot, Mobile Robot, Flying Robot, Autonomous Robot, Automation Control, Manipulator Robot, Programmable Logic Controller (PLC), SCADA, DCS, Wonderware, Industrial Robot, Robot Controller, Classical Control Systems, Modern Control Systems, Feedback Control, PID Controller, Fuzzy Logic Controller, State Feedback Controller, Neural Network Control, Linear Control, Optimal Control, Nonlinear Control, Robust Control, Adaptive Control, L1 Adaptive Control, L2 Adaptive Control, Geometry Control, Visual Control, Tracking Control, Artificial Intelligence, Machine Learning, Power Electronic Control System, Grid Control, DC-DC Converter Control, Embedded Intelligence, Network Control System, Model Reference Adaptive Control, Sliding Mode Control, Backstepping Control, Feedback Linearization, Automatic Control, State Observer, Kalman Filter, Linear Quadratic Regulator (LQR), Coefficient Diagram Method (CDM), Matlab Simulation, LabView Simulation, Passivity-Based Control, Lyapunov Redesign, Gain Scheduling, High-Gain Observers, Embedded Systems, Robot Operating System (ROS),  and etc.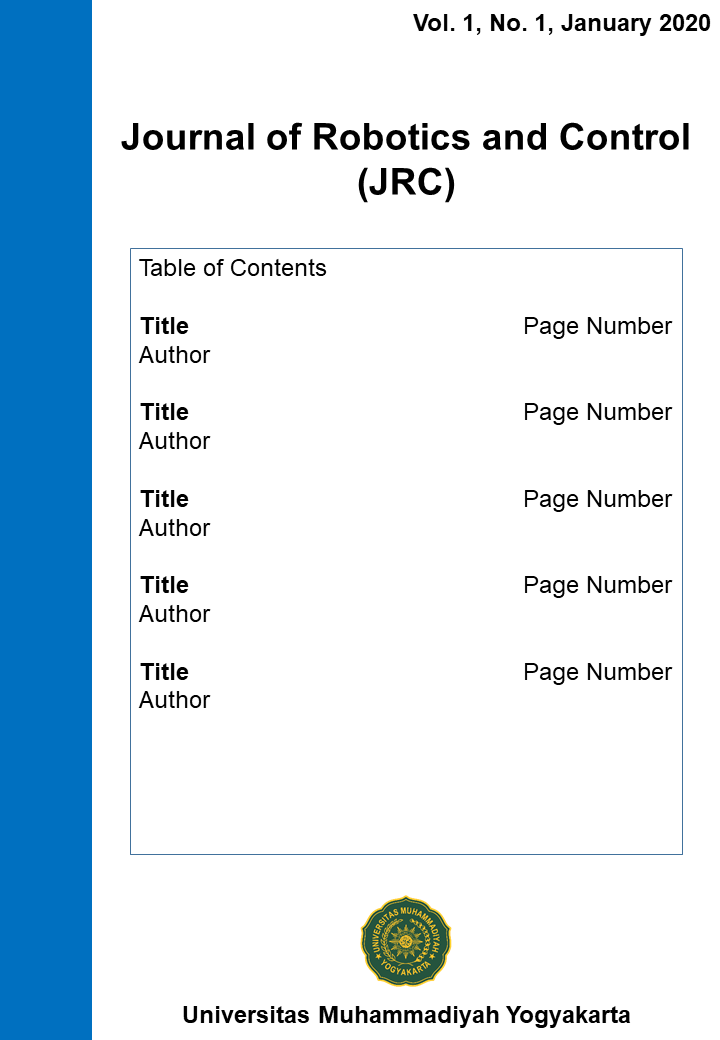 JRC have Google Scholar Citation = 102 and Google Scholar H-index = 7.
JRC have Scopus Citation by 18 Document.
Submitted papers must be written in English in at least 4 pages, and are evaluated by a minimum of two anonymous referees for contribution, originality, relevance, and presentation aspects. Accepted and published papers will be freely accessed in this website and the following abstracting & indexing databases:
Online Submission
Already have an/a username/password? Login
Need an/a username/password? Registration
Don't forget to check the author section tick when registering or if you forget, please change in my profile menu or contact the contact available.
OAI Adress:
http://journal.umy.ac.id/index.php/jrc/oai
Journal Template:
Registration and login are required to submit items online and to check the status of current submissions. Submitted manuscripts must never be published before and must be at least 4 pages long. In writing an English script you must use the correct grammar rules. For further information, please contact jrc@umy.ac.id or jrcofumy@gmail.com or 089688130196.
Announcements
Call for Reviewers and Editors

JRC is a high-quality journal that published the significant result of the research. All research articles in the Journal of Robotics and Control undergo rigorous peer review, based on initial editorial screening and refereeing by at least two anonymous reviewers.

High-quality scholarly communication of this nature requires the collaborative efforts of academics. The journal is professionally managed by a team of editors drawn from the academic and practitioner community for fixed periods, and a journal administrator. Hence JRC is calling for academics with sound academic background and who want to leave their footprints on the sand of time to serve as editors and reviewers.

Please, send your applications to our email jrc@umy.ac.id or jrcofumy@gmail.com

Best Regards,

Editor.

Posted: 2019-10-31

Call for Papers

Journal of Robotics and Control (JRC) is a peer-reviewed open-access journal published six times a year (January, March, May, July, September, and November) by Universitas Muhammadiyah Yogyakarta.

We invite you to submit your paper to JRC for publishing. Before submission please make sure that your paper is prepared using the journal paper template JRC Template.

Vol. 1, No. 6, November 2020

Vol. 2, No. 1, January 2021

Vol. 2, No. 2, March 2021

Vol. 2, No. 3, May 2021

Vol. 2, No. 4, July 2021

Vol. 2, No. 5, September 2021

Vol. 2, No. 6, November 2021

Submit your manuscripts today through our online system. The authors should refer to the JRC template for writing format and style. Submitted papers are evaluated by anonymous referees for contribution, originality, relevance, and presentation. The Editor shall inform you of the results of the review as soon as possible, hopefully in 2-4 weeks.

More information please contact jrc@umy.ac.id or jrcofumy@gmail.com

Best Regards,

Editor.

Posted: 2019-10-31
Vol 1, No 6 (2020): November
The author countries are coming from Indonesia, Malaysia, Thailand, Egypt, India, Pakistan
Table of Contents
Articles
| | | |
| --- | --- | --- |
| | Abdul Latif, Afif Zuhri Arfianto, Hendro Agus Widodo, Robbi Rahim, Elsayed T.Helmy | 185-190 |
| | | |
| --- | --- | --- |
| | Wiwin Armoldo Oktaviani, Taufik Barlian, Yosi Apriani, Nugraha Syarif | 191-198 |
| | | |
| --- | --- | --- |
| | Dwi Joko Suroso, Muhammad Arifin, Panarat Cherntanomwong | 199-207 |
| | | |
| --- | --- | --- |
| | Anthony Nnamdi Ogbolu, Sukidjo Sukidjo | 208-212 |
| | | |
| --- | --- | --- |
| | Syifa Putri Humaira, Indah Nursuprianah, Darwan Darwan | 213-219 |
| | | |
| --- | --- | --- |
| | Nur Hudha Wijaya, Dian Friska Novela, Nishith Shahu, Mian Usman Sattar | 220-223 |
| | | |
| --- | --- | --- |
| | Nuraeni Puji Astuti, Ritzkal Ritzkal, Ade Hendri Hendrawan, Bayu Adhi Prakosa | 224-228 |