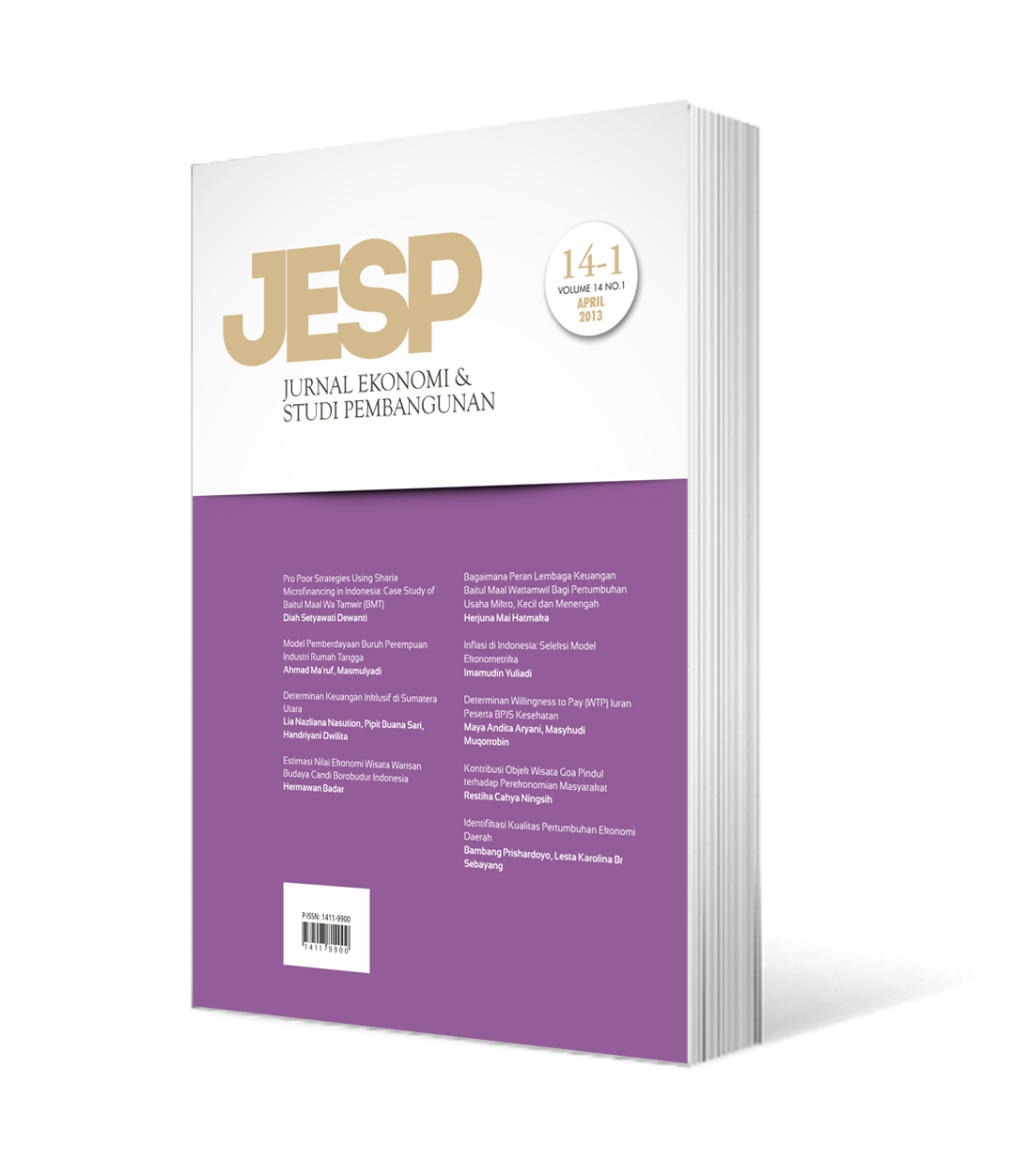 Jurnal Ekonomi & Studi Pembangunan (JESP)
 is bilingual (Bahasa Indonesia and English) peer-reviewed journal published by Universitas Muhammadiyah Yogyakarta in collaboration with the Association of Economics Department of Muhammadiyah Universities (APSEP PTM). Since the first issued in January 2000, JESP has been publishing scientific articles consistently, both research and review articles. JESP publishes the new editions every April and October. By October 2016, JESP has published both printed (book) and electronic (PDF) versions. Electronic articles are accessible openly on the web page: 
http://journal.umy.ac.id/index.php/esp
 and printed versions are available for sale. JESP is indexed by 
Google Scholar 
and Cros Reff. ISSN
2541-5506 (Online)
and
1411-9900 (Print)
.
JESP Volume 18 Nomor 2, Oktober 2017
Table of Contents
Articles
| | | |
| --- | --- | --- |
| | Nafisah Arinilhaq | 117-124 |
| | | |
| --- | --- | --- |
| | Shofiyanto Shofiyanto, Muhammad Findi, Salahuddin El Ayyubi | 125-141 |
| | | |
| --- | --- | --- |
| | Rahmah Yulisa Kalbarini, Tika Widiastuti, Dian Berkah | 148-154 |
| | | |
| --- | --- | --- |
| | Amimah Oktarina, Amir Mu'alim | 155-163 |
| | | |
| --- | --- | --- |
| | Faiza Husnayeni Nahar, Nano Prawoto | 164-172 |
| | | |
| --- | --- | --- |
| | Rica Ayu Nuraini, Lilies Setiartiti | 173-182 |