Journal of Governance and Public Policy is the flagship journal, peer-reviewed, open-access journal that targets research in Governance and Public Policy issues. The journal provides academic scholars and professionals to analyze, stimulate and disseminate a wide range of governance and public policy based dynamics, governing processes as well as a politicals research areas with the latest theoretical, concept, methodological advancements, and practices in Governance and Public Policy. The journal offers a genuinely valuable source for scientists and public policy makers in all areas looking for distinctive ways of dealing with related issues. Distinguished contributors from all over the world present in-depth research and studies which have tangible practical values and whose methodologies can be applied to solve or mitigate parallel situations.
JGPP is registered with ISSN number 2460-0164 (print), 2549-7669 (Online). The journal is published three times yearly: February, June, and October by the Master of Government Affairs and Administration, Postgraduate Program, Universitas Muhammadiyah Yogyakarta, Indonesia in collaboration with Asosiasi Dosen Ilmu Pemerintahan Indonesia/ADIPSI (http://www.adipsi.org/, ). JGPP has been ranked 2 at SINTA (Science and Technology Index) by the  Director-General of Strengthening Research and Development, Ministry of Research Technology, and Higher Education of the Republic of Indonesia, Decree Number 148/M/KPT/2020. We apply a high-quality standard review process as the principal quality assurance instrument of our journal.  All the articles published by JGPP are assigned with DOI numbers.
JGPP invite all interested contributors to submit their papers for consideration or to become a subscriber and publish their article at JGPP.
 Journal of  Governance and Public Policy is indexed by: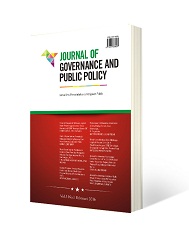 Announcements
Announcement

Already have a Username/Password for Journal of Governance and Public Policy?
GO TO LOGIN

Need a Username/Password?
GO TO REGISTRATION

Registration and login are required to submit items online and to check the status of current submissions.

Posted: 2020-01-05
Vol 8, No 1 (2021): February 2021
Table of Contents
Articles
| | | |
| --- | --- | --- |
| | Muhammad Eko Atmojo, Helen Dian Fridayani | 1-9 |
| | | |
| --- | --- | --- |
| | Slamet Rosyadi, Ahmad Sabiq, Abdul Aziz Ahmad, Muhammad Yamin | 10-21 |
| | | |
| --- | --- | --- |
| | Zaid Zaid, Farouk Aisha Dawaki, Sabit Kazeem Ololade | 22-36 |
| | | |
| --- | --- | --- |
| | Syamsu Rizaldi, Ria Ariany, Annisa Aulia Putri | 37-49 |
| | | |
| --- | --- | --- |
| | Rio Yusri Maulana, Makmun Wahid, Dori Efendi, Moh. Arif Rakhman, M. Yusuf, Michael Lega | 60-70 |
| | | |
| --- | --- | --- |
| | Zaldi Rusnaedy, Almuhajir Haris | 71-81 |