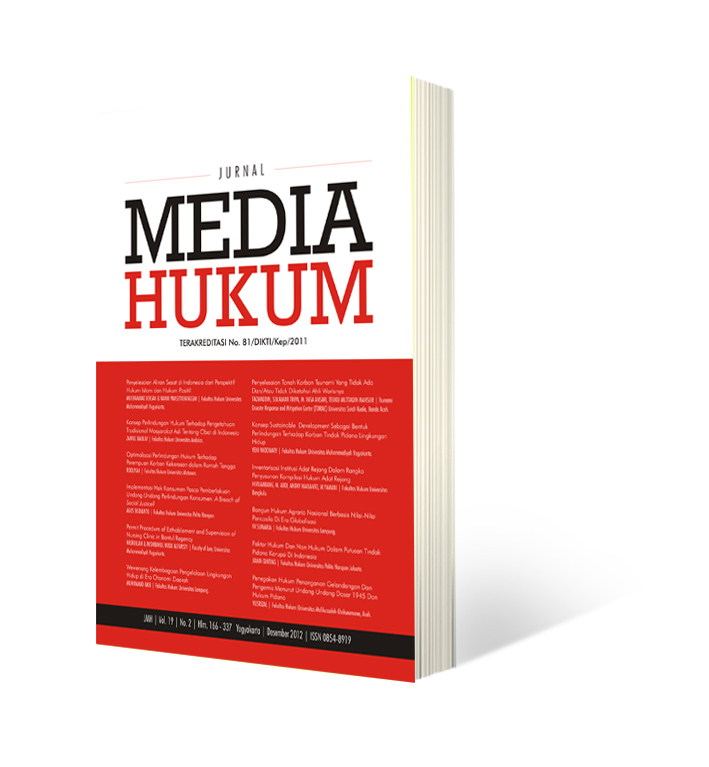 MEDIA HUKUM (JMH)
(P-ISSN:0854-8919
),
E-ISSN:2503-1023)
is journal published by Faculty of Law Universitas Muhammadiyah Yogyakarta. JMH publishes scientific articles that related in law, development
and harmonization of Shariah and positive law in Indonesia
. JMH are published twice a year, in June and December. Articles are written in English and reviewed by competence reviewers.
JMH has  been accredited by Directorate of Higher Education, Ministry of Education and Culture, Indonesia since 2005: No. 26/DIKTI/Kep/2005, in 2008: No. 43/DIKTI/Kep/2008, in 2011: No. 81/DIKTI/Kep/2011, in 2016: No. 36a/E/KPT/2016, in 2018: 30/E/KPT/2018.
Vol 26, No 2 (2019): December
Table of Contents
Articles
| | | |
| --- | --- | --- |
| | Yati Nurhayati, Ifrani Ifrani, Abdul Halim Barkatullah, M Yasir Said | 122-130 |
| | | |
| --- | --- | --- |
| | Lastuti Abubakar, Tri Handayani | 131-145 |
| | | |
| --- | --- | --- |
| | Yoefanca Halim, Fricky Sudewo, Jestin Justian | 146-157 |
| | | |
| --- | --- | --- |
| | Nugraha Pranadita, Imas Rosidawati, Tansah Rahmatullah | 194-212 |
| | | |
| --- | --- | --- |
| | Rahmat Muhajir Nugroho, Anom Wahyu Asmorojati | 213-222 |
| | | |
| --- | --- | --- |
| | Ilham Yuli Isdiyanto | 223-239 |
| | | |
| --- | --- | --- |
| | Isis Ikhwansyah, Lambok Marisi Jakobus Sidabutar | 240-251 |