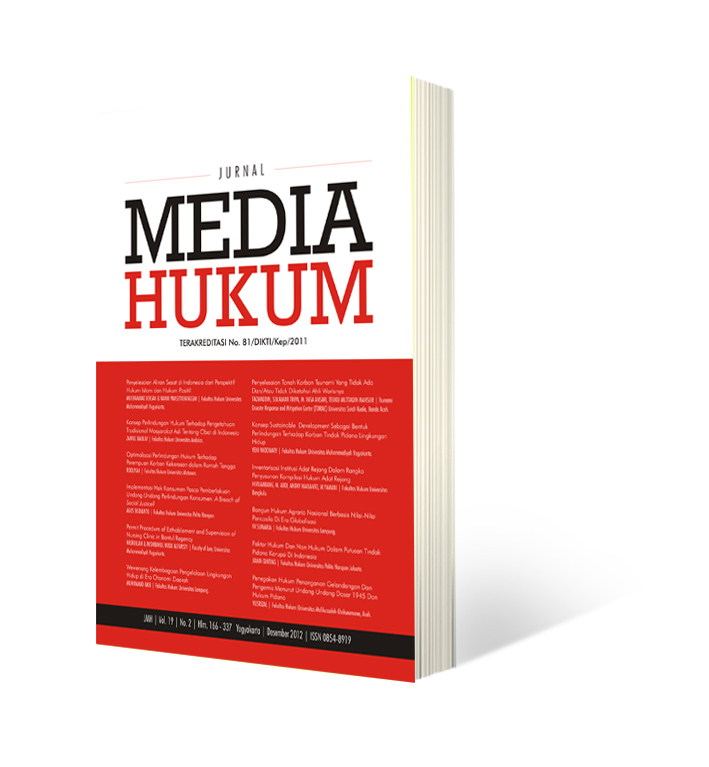 The Jurnal Media Hukum (JMH) is a peer-reviewed journal, published twice a year, June and December, by the Faculty of Law, Universitas Muhammadiyah Yogyakarta in associate/in collaboration with Indonesian Association of Law Journals and Indonesian Association of Comparative Laws.
JMH publishes scientific articles related to Law and Shariah. 

The JMH has been accredited by Directorate of Higher Education, Ministry of Education and Culture, Republic of Indonesia since 2005, by Decree No. 26/DIKTI/Kep/2005, in 2008: Decree No. 43/DIKTI/Kep/2008, in 2011: Decree No. 81/DIKTI/Kep/2011, in 2016: Decree No. 36a/E/KPT/2016, in 2018: Decree No. 30/E/KPT/2018, in 2020: Decree No. 148/M/KPT/2020.
The JMH is indexed in DOAJ, Sinta, OAJI and Google Scholar.
Journal Name
Journal Abreviation
Printed ISSN
Online ISSN
Publisher

Editorial Addres
Telephone
Email
First Publication Year
Publication Frequency

:
:
:
:
:

:
:
:
:
:

Jurnal Media Hukum
JMH
0854-8919
2503-1023
Laboratorium Ilmu Hukum Fakultas Hukum Universitas Muhammadiyah Yogyakarta

Kampus UMY, Jl.Brawijaya, Tamantirto, Kasihan, Bantul, Yogyakarta 55183
+62 274 387656 Ext 220
jurnalmediahukum@gmail.com
1993
Biannually (June & December)