Jurnal Studi Pemerintahan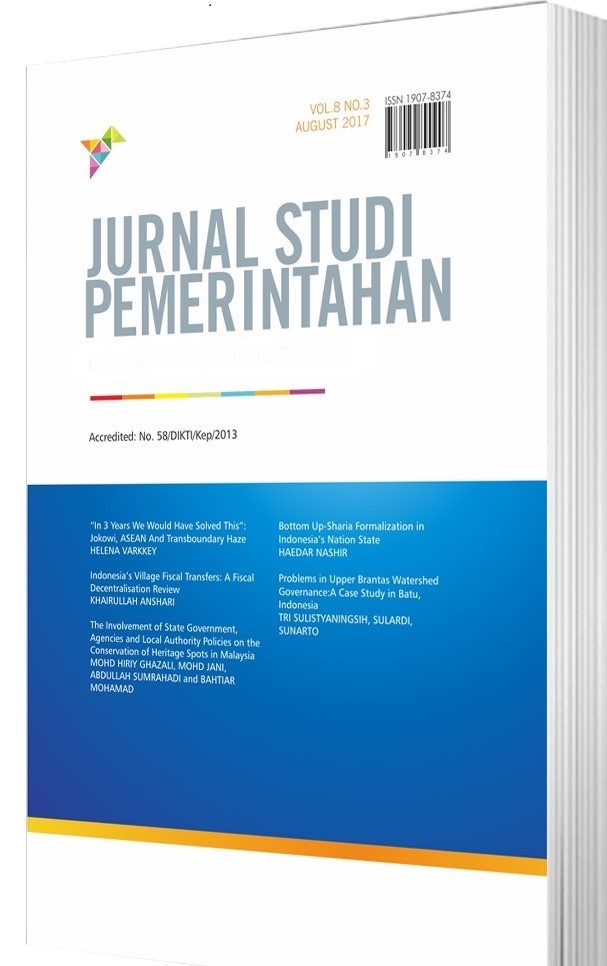 Jurnal Studi Pemerintahan (or known Journal of Government and Politics) Print ISSN:1907-8374 & Online ISSN: 2337-8220 is the journal published three annual issues: February-July, July-October, and October-February by the Department of Government Affairs and Administration, Faculty of Social and Political Sciences, Universitas Muhammadiyah Yogyakarta, Indonesia collaborate with Asia Pacific Society For Public Affairs (APSPA) http://apspa.org and Asosiasi Dosen Ilmu Pemerintahan Indonesia (ADIPSI) http://www.adipsi.org/ The journal aims to publish research articles within the field of politics and government affairs, and to analys a  range of contemporary political and governing processes.
The journal's international content offers a genuinely valuable source for scientists and public policy makers in all areas looking for fresh ways of dealing with familiar problems. Distinguished contributors from all over the world present in-depth research and case histories which have tangible practical value and whose methodologies can be applied to solve or mitigate parallel situations. Highly downloaded – Highly cited – International authorship – submissions from 15 different countries. Long history – publishing continuously for 10 years. Jurnal Studi Pemerintahan has  been ranked 2 at SINTA and has been accredited by Kemenristekdikti since August 2013 (Decree No.34/E/KPT/2018) and indexed by ASEAN citation index. Published article is assigned with a DOI number.
Announcements
Jurnal Studi Pemerintahan Call for Paper on Government Policy Response on Covid-19!

Since March 11, 2020 Covid-19 has been stating as a global pandemics status by World Health Organization (WHO).  How do people respond to advice on how to prevent transmission is as relevant as governing (Anderson, Heesterbeek, Klinkenberg, & Hollingsworth, 2020). Most countries attempt to preserve or improve their national capacity to plan, primarily due to lack of capital, conflicting national agendas and high health workers turnover (Kandel, Chungong, Omaar, & Xing, 2020). In an ideal world, governments should respond to policy problems that occur within their operating environments in a proportionate and targeted way (Peters, Jordan, & Tosun, 2017). However, the daily experience of government is also very different, in the area of Covid-19 policy, the range of responses is often very broad and views vary as to whether they are appropriate answers (Maor, 2012; Maor, Tosun, & Jordan, 2017).  Why do governments, both as a whole and at the level of individual country, often find it difficult to respond?

All fast track reviewed paper will be published in July and October 2020 edtitions

 

 

Posted: 2020-01-08
Vol 11, No 2 (2020): July 2020
Table of Contents
| | | |
| --- | --- | --- |
| | Idris Sule Dan, Nwaodike Chibuzor Ayodele, Oni Michael Abiodun | 202-228 |
| | | |
| --- | --- | --- |
| | Gift U Ntiwunka, Chibuzor A Nwaodike, Adewale K Kupoluyi | 229-254 |
| | | |
| --- | --- | --- |
| | Rindana Intan Emeilia, Nani Nurani Muksin | 255-284 |
| | | |
| --- | --- | --- |
| | Yogi Suwarno, Nila Kurnia Wati | 285-314 |
| | | |
| --- | --- | --- |
| | Moh Ilham A Hamudy, M Saidi Rifky | 315-339 |
| | | |
| --- | --- | --- |
| | Abdelkrim Dekhakhena | 340-369 |