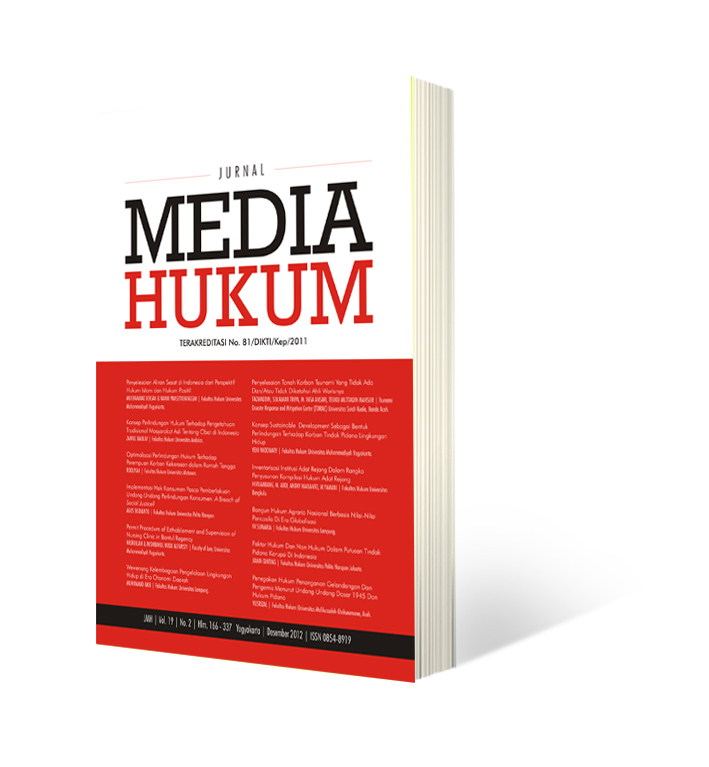 The Jurnal Media Hukum (JMH) 
is a peer-reviewed journal, published twice a year, June and December.  JMH publishes scientific articles related to Law and Shariah. 

The JMH has been accredited by Directorate of Higher Education, Ministry of Education and Culture, Indonesia since 2005: No. 26/DIKTI/Kep/2005, in 2008: No. 43/DIKTI/Kep/2008, in 2011: No. 81/DIKTI/Kep/2011, in 2016: No. 36a/E/KPT/2016, in 2018: 30/E/KPT/2018.
The JMH is indexed in DOAJ, Sinta, OAIJ and Google Scholar.
Journal Name
Journal Abreviation
Printed ISSN
Online ISSN
Publisher

Editorial Addres
Telephone
Email
First Publication Year
Publication Frequency

:
:
:
:
:

:
:
:
:
:

Jurnal Media Hukum
JMH
0854-8919
2503-1023
Laboratorium Ilmu Hukum Fakultas Hukum Universitas Muhammadiyah Yogyakarta

Kampus UMY, Jl.Brawijaya, Tamantirto, Kasihan, Bantul, Yogyakarta 55183
+62 274 387656 Ext 220
jurnalmediahukum@gmail.com
1993
Biannually (June& December)
Vol 27, No 1 (2020): June
Table of Contents
Articles
| | | |
| --- | --- | --- |
| | Rina Rohayu H, Absori Absori, Natangsa Surbakti | 23-32 |
| | | |
| --- | --- | --- |
| | Indriati Amarini, Ratna Kartikawati | 44-54 |
| | | |
| --- | --- | --- |
| | Ibnu Sina Chandranegara, Muhammad Ali | 55-67 |
| | | |
| --- | --- | --- |
| | Sri Suatmiati, Edy Kastro | 68-78 |
| | | |
| --- | --- | --- |
| | Komarudin Kudiya, Saftiyaningsih S. Ken Atik | 121-132 |