Insisiva Dental Journal : Majalah Kedokteran Gigi Insisiva (IDJ) is  peer reviewed journal published by Universitas Muhammadiyah Yogyakarta. Since the first issued in May 2012, IDJ is publishing scientific articles consistently, both research, and case report. IDJ publishes the new editions every May and November. By November 2018, IDJ has published both printed (book) and electronic (PDF) versions. Electronic articles are accessible openly on the web page: http://journal.umy.ac.id/index.php/di/index. ISSN: 2252 - 9764 (print) and 2685-9165 (online). IDJ is indexed by Google Scholar and Garuda (Garba Rujukan Digital). 
Insisiva Dental Journal. focuses on all aspects of dental and oral health: 
Basic dentistry
Biomedical
Biochemistry
Oral Biology
Molecular Biology
Epidemiology
Public health
Preventive Dentistry
Biomaterials
Dental Education
Clinical dentistry
Endodontics
Prosthodontics
Orthodontics
Pediatric Dentistry
Periodontics
Conservative Dentistry
Oral Surgery
Oral Medicine
Radiology
IMPORTANT: Before you submit a manuscript, make sure that your paper is prepared using Insisiva Dental Journal's TEMPLATE FOR SUBMISSION, has been proofread and polished carefully, and conformed to the Insisiva Dental Journal's AUTHOR GUIDELINES. 

Online Submissions

Registration and login are required to submit items online and to check the status of current submissions.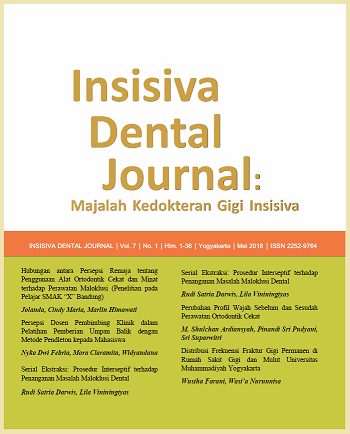 Announcements
No announcements have been published.
Vol 9, No 2 (2020)
Table of Contents
Articles
| | | |
| --- | --- | --- |
| | Hastoro Pintadi, Tika Kartika Putri | 39-45 |
| | | |
| --- | --- | --- |
| | Tantin Ermawati, Rendra Chriestedy Prasetya, Nadie Fatimatuzzahro, Astrid Ganadya Nurul Iffah | 46-51 |
| | | |
| --- | --- | --- |
| | Indri Kurniasih, Dinni Alifa Azzahraa | 52-59 |
Case Report
Literature Review
| | | |
| --- | --- | --- |
| | Erma Sofiani, Fineza Rovi | 72-81 |