Journal of Japanese Language Education and Linguistics (JJLEL) is an online journal, open access peer review journal, published twice a year every February and August. This journal is for all contributors who are concerned with research related to the study of Japanese language education and Japanese Linguistics
Articles published in JJLEL can be written in bahasa Indonesia with abstract should be written in bahasa Indonesia and English. JJLEL is a forum for publishing original research articles, paper-based articles and Linguistic reviews that have never been published before. All texts are reviewed by at least one competent reviewer in the related field.
Objectives and Scope
JJLEL is a peer-reviewed academic journal published by the Japanese Language Education Program Faculty of Language Education Muhammadiyah University of Yogyakarta.
JJLEL focuses mainly on the areas of the field below:
Japanese Language Teaching Methodology
Japanese Material Design
Japanese Language Teacher Education and Professional Development
Innovation / New Technology in Japanese Language Teaching
Japanese Linguistics Theory
JJLEL is an open access journal, which means that all content is freely available at no cost with the use of his / her agency. Users are allowed to read, download, copy, distribute, print, search or link to the full text of the article, or use it for other legitimate purposes, without requesting prior authorization from the publisher or author. Print ISSN 2597-5277, Online ISSN 2615-0840. Journal of Japanese Language Education and Linguistics is indexed by: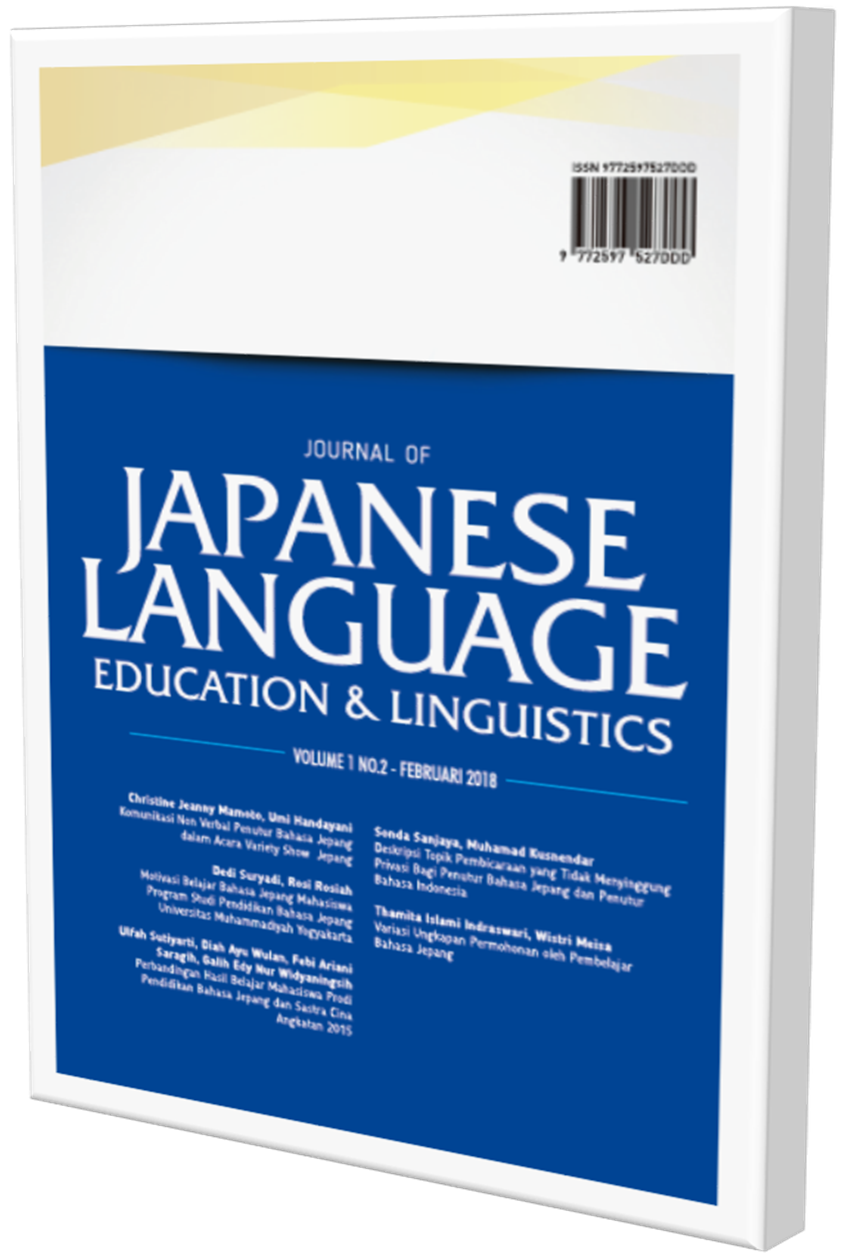 Announcements
Pengumuman Akreditasi Jurnal JJLEL

Berdasarkan hasil penilaian akreditasi jurnal, Journal of Japanese Language Education and Linguistics (JJLEL) mendapatkan peringkat Sinta 4

Posted: 2019-10-12

Call for Papers

For the newest edition of the journal, we invite the lecturers, researchers, and academics to submit the research manuscript to JJLEL.

Check the information below

Posted: 2019-09-19
Vol 5, No 1 (2021): Februari
Table of Contents
Articles
| | | |
| --- | --- | --- |
| | Thamita Islami Indraswari, Siti Mutiaraningsih, Siti Julaeha, Santy Sugiarty | 1-11 |
| | | |
| --- | --- | --- |
| | Lufi Wahidati, Fatmawati Djafri | 12-30 |
| | | |
| --- | --- | --- |
| | Mery Kharismawati, Devita Widyaningtyas Yogyanti, Ummul Hasanah | 31-45 |
| | | |
| --- | --- | --- |
| | Ulfah Sutiyarti, Kisyani Kisyani, Mintowati Mintowati, Yulia Hapsari | 63-82 |